One would assume it would be easy, in 2018, to simply pay a utility bill online. One would be incorrect. At least in Mexico. CFE (Federal Electricity Commission) is our electric company here in Mexico. Our electric bills are delivered every 2 months here, so over the last 10 months, we've paid our bill 5 times. It seems like every time we pay it, it's with a different method.
Pay Offline – at OXXO
When we first arrived here in Mexico, we simply gave cash to our landlady, and she paid the electric bill. Likely by going to the local convenience store – OXXO. OXXO's are a chain of convenience stores all across Mexico. It seems like you can do almost anything at OXXO-  buy beer, pay your utility bills, re-charge your debit card, add minutes to your cell phone, etc.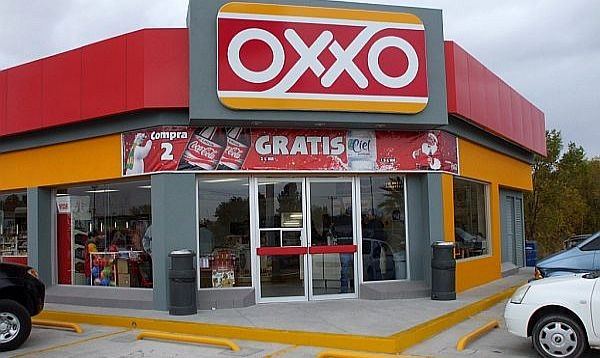 Pay directly online at CFE
Shortly after we moved, I was able to create an account at the CFE site, and I was able to access my bill. It's actually a decent enough website, and provides historical data, access to your bills, etc. In addition, I could pay my bill online with a credit card. w00t!
'cause I'm all about earning those credit card points!
Success!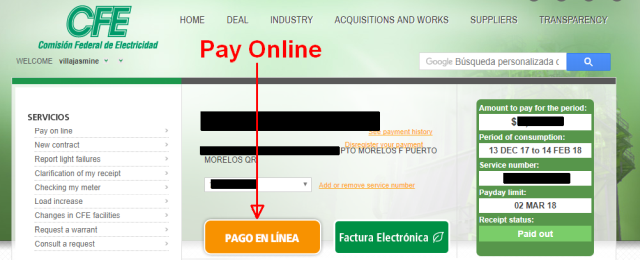 It was actually super easy to pay online at the CFE website, and I was able to use one of my US credit cards.
Rejected!
Fast forward two months, and I again try to pay my bill online at the CFE site, but my credit card is rejected.
The message I got was: 02M200005: REJECTED TRANSACTION, TRY WITH ANOTHER CARD
Ouch. I tried with multiple credit cards, MasterCard and Visa – all the same. The word 'round the campfire was that CFE had stopped accepting US-based credit cards. doh! Time for a new plan.
Pay with Xoom
A friend told me I could pay my CFE bill with Xoom. Xoom is actually owned by PayPal, and their primary purpose seems to be making it easy to transfer money to people in other countries, either into a bank account or at a cash pickup location.
In addition, they allow for online bill pay – such as paying your phone bill, gas bill, cable bill, and electric bill.
So for the last few months, I've been successfully using Xoom to pay my CFE bill.
Their service charge is $2.99 USD. For me, it's worth it to pay my bill online with a credit card. It's convenient, plus I'm all about earning credit card points.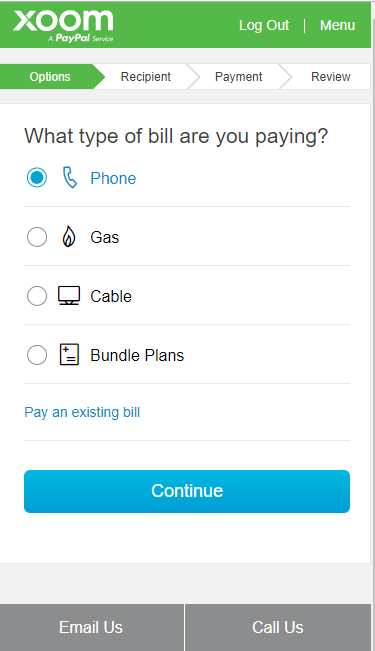 A week ago, I tried to again pay my CFE bill using Xoom, but it seems that they no longer accepted CFE payments.
I reached out to Xoom, and here's what they had to say:
As you may have learned, we are experiencing a service interruption with transfers going to CFE (Comisión Federal de Electricidad). We are working with our partner to resolve this issue as soon as possible.

We apologize for the inconvenience and will inform you as soon as the service is available again.
Time to change tactics again.
Switch App
Someone on one of our local facebook groups said he had been using the Switch app to pay his CFE bill since last year, but as of this month they also no longer allow bill pay to CFE.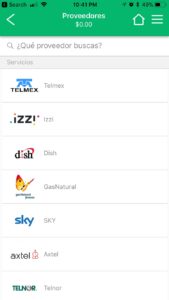 I'm guessing that CFE changed something on their end (from a technical standpoint), and that's affecting the integrations with Switch and Xoom.
Pagamobil
Another friend (Kim at Run Away Realty here in Puerto Morelos) suggested using the pagamobil app. I downloaded the app and signed up.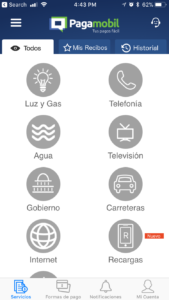 Add a payment method
From the home page, click on the Formas de Page icon at the bottom of the app.
Click on the + Agregar metodo de Pago to add either a credit card or enter your PayPal account info. I used a credit card.
Account Validation
From the home page, click on the Mi Cuenta icon. Make sure your personal information is correct (this gets entered during account sign up)
Click on the Verificar Cuenta icon.
From here, you'll want to :
Verificar Correo (verify your email address)
Verificar Telefono (verify your mobile phone number)
Verificar Identification (verify your ID). I uploaded a copy of my Mexican driver's license.
Now that all your information is entered, you can pay a bill.
Pay a Bill
Once you're logged in, from the home page, click on Luz y Gas (Lights & Gas)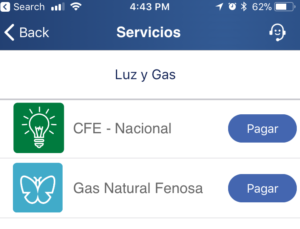 click on the Pagar for CFE button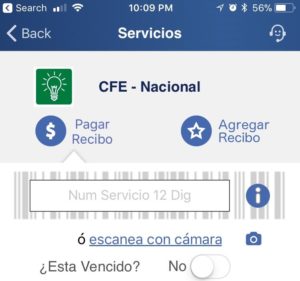 Click on escanea con camera, and take a picture of the barcode on the bottom your CFE bill (which you can get from CFE website).  I tried entering the 12 digit service number manually, but that didn't work.
Select your form of payment, and submit.
Waiting…
My bill pay seemed to be successful, but it went to an In Process status. I had to wait a couple of days for pagamobil to verify my information and ID.
After 2 days, my bill pay showed as Pago Realizado (payment made).
I logged into the CFE website, but my bill didn't show as paid.
I waited one more day, and finally the CFE website showed my bill as Pagado (paid)
Pagamobil did charge $55 pesos as a service fee (Comision por servicio)
So, I was finally able to once again pay my CFE bill online. This time it was using the pagamobil app, on my US-based iPhone, using a US-based credit card.
Next Time
In 2 months, when my next electric bill arrives – we'll see what happens.
I'll try again to pay directly on the CFE website, but I don't have high hopes that they'll accept my US-based credit card.
Hopefully the pagamobil app will still work!
---
Update – June 19, 2018
We got our CFE bill this week, and here's a quick recap of paying our bill
Tried paying online on the CFE website using a US credit card – didn't work
Tried paying using the CFE Contigo mobile app using a US credit card – didn't work
Successfully paid using the pagamobil mobile app using a US credit card – it worked perfect!
---
Update – October 22, 2018
CFE is now allowing online payments with American Express!
Tried paying online on the CFE website using a US -based Visa and a US-based Mastercard – didn't work.